EVENTS.
UPCOMING OPAS EVENTS.
Interested in hosting a Paint Out? Need some guidance on how or when? Contact our Paint Out Coordinator, Carol Cosgrove.
 June 1, 2019 – Pleasant Hill Lake Park
Address: 3431 OH-95, Perrysville, OH 44864
OPAS Host: Mary Ann Clady
Timing: 9am-2pm Live painting; 2-3pm Wet Paint Sale.
This will be the second year of a paint out opportunity at Pleasant Hill Lake.
Bathrooms are easily accessible in the welcome center. Bring your own lunch. Park leadership is interested in purchasing paintings to be used in new cabins being built in 2019.
You can set up in several locations in the park, beach, marina, etc. In case of rain we will setup on the covered deck or inside the welcome center bldg.
2018 OPAS Member Show at Springfield Museum of Art
"Farms en Plein Air"
Juror: Dan Knepper
Entry Deadline: Sunday, Oct. 7, 2018 (Submission is closed)
Show Dates: Dec. 8, 2018 – March 9, 2019
Opening Reception: Saturday, Dec. 8, 2018 from 5:30-7:30 pm.
The Ohio Plein Air Society Members Show: Farm Life en Plein Air
At The Springfield Museum of Art
A Juried, Plein Air Gallery Exhibition
Saturday, December 8, 2018 to Saturday, March 9, 2019
Opening Reception, Saturday, December 8, 2018, 5:30 – 7:30 pm
ENTRIES:
Entry Deadline: Sunday, October 7, 2016
Images – Minimum: 1, Maximum: 3
Entry Fee: $25.00
CALL FOR OPAS ARTISTS:
This juried event will celebrate the plein air tradition by exhibiting, promoting, and selling an exclusive group of works painted outdoors in the true spirit of plein air painting. Our juror will select the finest plein air works from members of the Ohio Plein Air Society. Every member who submits is guaranteed to have a painting included in the show.
We will celebrate at an opening on Saturday, December 8, 2018, 5:30 – 7:30 PM.
Our Theme for this show is simply Farm Life en Plein Air. Any part of a farm can be painted for this show. Everyone has a farm close by. Please remember to ask permission before painting on private property.
Don't miss this unique opportunity to win cash prizes, sell your work, and add a prestigious fine art museum exhibition to your artist resume.
ENTRY DEADLINE:
All entries must be submitted via Online Juried Shows (www.onlinejuriedshows.com) by Sunday, October 7th, 2018. An entry start date has not been determined.
Artists MUST be members of the Ohio Plein Air Society to submit their works. Go to www.ohiopleinairsociety.com or call 419-606-1620 for membership information.
ENTRIES AND FEES:
A non-refundable application fee of $25 will be collected from each artist submitting their works.
This fee is payable online only by credit card via Online Juried Shows (www.onlinejuriedshows.com)
Each artist may submit a maximum of 3 painting images
The artist will be responsible for delivery of art to/from The Springfield Museum of Art, on any works selected for exhibition
CONDITIONS OF ELIGIBILITY:
All submissions MUST BE ORIGINAL PLEIN AIR PAINTINGS (at least 90% done on location)
Paintings must have been completed during the last 4 years
All paintings must depict some aspect of a farm
Our juror will be choosing works they feel best represent the spirit of PLEIN AIR painting and the theme of Farm Life.
Please submit your best PLEIN AIR work only, no studio work
All artwork MUST BE framed, and wired securely for hanging in a fine art gallery setting
Works on paper and mediums susceptible to smearing/smudging MUST BE protected under glass or plexi-glass.
The Springfield Museum of Art reserves the right to reject any artwork deemed improperly framed or improperly prepared for hanging.
Any work accepted to the juried show MUST BE present for the duration of the scheduled exhibition
JURYING PROCESS:
Juror: Dan Knepper
Each artist member may submit up to 3 paintings to be judged.
Each painting is judged on an individual basis and, therefore, considered on an individual basis for exhibition as well, not as a group
Every OPAS member that submits will get at least one painting into the show
Selections will be announced to ALL ARTISTS, regarding paintings selected or not, via Online Juried Shows by Monday, Oct. 22, 2018
DELIVERY OF ACCEPTED PAINTINGS:
Selected works MUST BE hand delivered to The Springfield Museum of Art, 107 Cliff Park Road, Springfield, OH 45504
Drop-Off dates are Wednesday, November 14, 2018, from 4 – 7 pm and Saturday, November 17, 2018 from 1 – 4 pm
While there are no numerical limitations to the size of each piece being submitted, please only submit paintings that can be easily packed and delivered safe to/from The Springfield Museum of Art
ART SALES:
All paintings selected will be considered consigned inventory of The Springfield Museum of Art
A predetermined sales price MUST BE provided at the time of submission by the artist for each painting submitted to the show
The Springfield Museum of Art art will collect a 30% commission on all paintings sold during the exhibition
The Springfield Museum of Art commission will be deducted from the provided sales price.
Prior to receiving their portion of a sale, the artist must complete a 2019 W9 form for tax purposes
The artist's portion of all sales will be paid at the show's completion via check and mailed to the address provided in the artist's application.
EXHIBITION CLOSE AND RETURN OF UNSOLD WORK:
The exhibition officially ends Saturday, March 9th, 2019
Pick-up dates are: Sunday, March 10th, 2019 from 1 – 4 pm and Wednesday March 13th, 2019 from 4 – 7 pm
DEADLINE/IMPORTANT DATES SUMMARY:
10/7/18 – All entries are due via Online Juried Shows.com
10/22/18 – Selections announced via Online Juried Shows.com
11/14/18 & 11/17/18 – Selected paintings MUST BE dropped off at The Springfield Museum of Art
12/8/18 – Show starts at The Springfield Museum of Art
12/8/18 – Opening show reception from 5:30 – 7:30 pm at The Springfield Museum of Art
3/9/19 – Show concludes.
3/10/19 and 3/13/19 – Pick up unsold Art at The Springfield Museum of Art
IMPORTANT INFORMATION:
• Address for the Springfield Museum of Art, 107 Cliff Park Road, Springfield, OH 45504
• The OPAS chair for this show is Robine Wright
2018 Curated Show at the Southern Ohio Museum
The Ohio Plein Air Society Show: Creating Identity from Place
At The Southern Ohio Museum in Portsmouth, OH
A curated, Plein Air Gallery Exhibition
Show dates:
At the SOM: January 26 – April (?), 2019
These are the artists representing OPAS for this curated show
Jon Browning              Ray Hassard                  Martha Carmody                  Cody Heichel
Ed Charney                  Karen LaValley              Thomas Cole                         Chris Leeper
Nora Daniel                 Michael McEwan          Debra Joyce Dawson           Robin Roberts
Edie Dean                    Doreen St. John            Ann Ferguson Kah                Bridgette Turner
Jim Glover                   Michelle Walker            Larry Golba                            Mary Jane Ward
January 26, 2019- Exhibition opens at Southern Ohio Museum and Cultural Center
April, 2019- (Date TBA) Exhibition closing reception with paint-out in Portsmouth
The 16th Annual Ohio Plein Air Competition is in Cincinnati, Ohio, Sept. 26-29, 2019
Tim Horn will be our Juror and workshop instructor. More Information to come.
Hamilton County is 413 square miles of painting opportunities. Boasting a great series of parks and nature preserves (www.greatparks.org), the major urban center of Cincinnati, three major rivers, farms and great hilltop vistas, everything you would ever want to paint is here! Explore pure nature scenes, both contemporary or historic architecture, bustling urban markets and public spaces, and more. In the village of Mariemont, less than 10 miles east of downtown Cincinnati, the Woman's Art Club Cultural Center will be our headquarters for the weekend. In order the include the interesting town of Milford, the painting area will be extended on the east side to include the strip inside the 275 loop.
2018 list of winners:
Best of Show – Tom Post
1st Place – Ann Grimaldi
2nd Place – Mary Beth Dowlin
3rd Place – Chris Leeper
Artist Choice – Jeff Evans
Michael Harding Award of Excellence – Christine Kuhr
JFM 1 – Award of Excellence – Jeff Evans
JFM 2 – Award of Excellence – Chuck Marshall
SourceTek Award of Excellence – Barbara Pask
Richeson/Judson Award of Excellence  – Jody Crow
Gamblin/Blick Award of Excellence  – Mary Ann Davis
Gamblin/Richeson Award of Excellence  – Monica Achberger
Richeson/Blick Award of Excellence  – Robert Maurer
Honorable Mention – Jenifer Stewart
Honorable Mention – Fran Mangino
Honorable Mention – Wendy Fleury
Quickdraw – Chris Leeper
A 3-day WORKSHOP with Artist, Kathleen Hudson
WHEN? Sunday, April 7, through Tuesday, April 9, 2019
WHERE? Wild Goose Creative, 2491 Summit St, Columbus, OH 43202
HOW MUCH? $450 for OPAS Members, $495 for Non-OPAS Members
A studio landscape workshop for artists working in oils. Each morning will feature a presentation, full demo, and exercises for students focusing on value and composition. Afternoons will be devoted to one-on-one instruction. Each student's in-depth study the first afternoon will lead to a finished (or at least near-finished!) studio landscape painting by the final day.
Points of study will include:
• Seeing as an artist: painting light rather than objects
• Planning your painting: envisioning your painting, using varied reference material, honing value and design, doing color studies
• Stages of studio painting: drawing, block-in, color mixing, approaches to working a larger painting, refining texture & edges, tools for self-critique
• Experimentation: exercises you can do at home to continue your growth as an artist
One-on-one instruction will be individually tailored. Students are encouraged to email several landscape painting examples beforehand and list some specific things they would like to work on.
Attendance fee includes spiral-bound workshop book. 
There are two ways to register and pay below. You can register & pay online! We make it easy to register and pay in full online with any major credit card or with PayPal. You can also register or pay a deposit by printing and filling out the registration form by clicking on the "Download Form" button and mail your check or money order, payable to OPAS  to: OPAS Treasurer, P.O. Box 14926, Columbus, OH 43214
Teachers
The following OPAS members teach classes, workshops and / or demos. Please contact these OPAS members directly to be added to their mailing lists.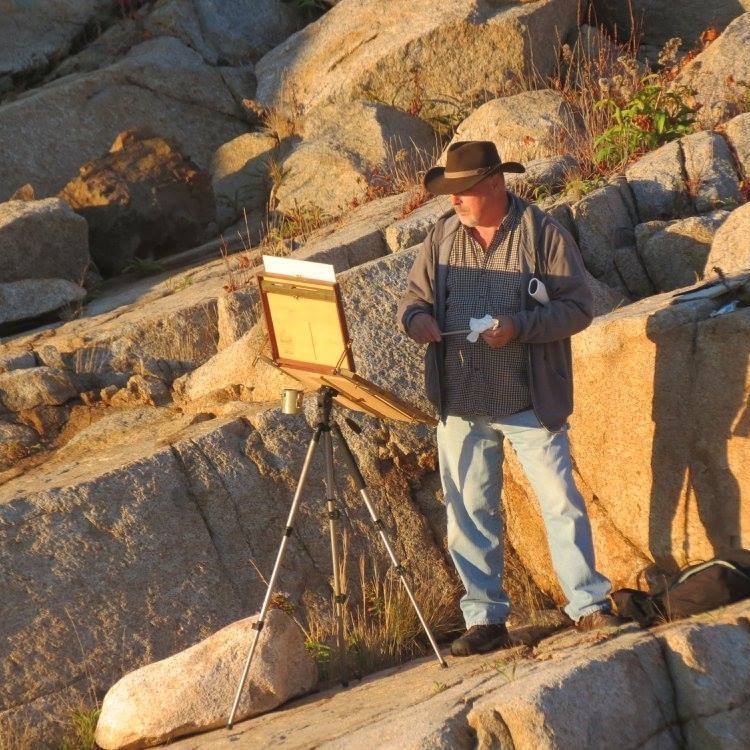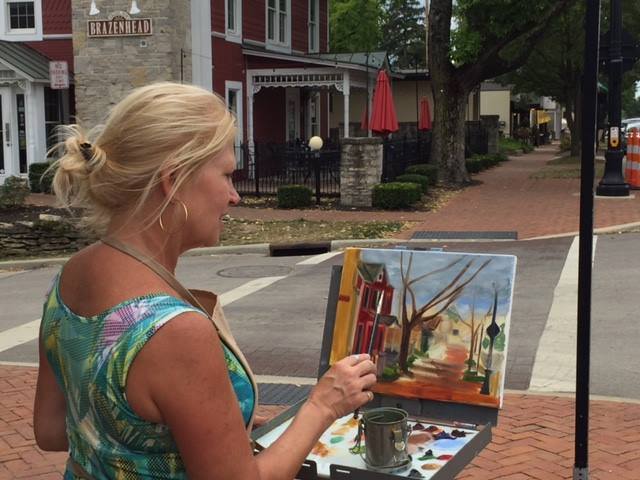 Join.
BECOME A MEMBER TODAY.
The Ohio Plein Air Society is a collection of artists and art lovers sharing a common interest in outdoor painting. While we recognize that all art is important, as a group we focus on painting, drawing, and other art forms completed on site, from direct observation, and outdoors. Our admiration for the world around us gives us reason to explore through art the diversity and uniqueness of Ohio's landscapes, cityscapes, lakes, rivers, and streams, and beyond.  As a non-profit organization, OPAS welcomes and supports artists, patrons, educators, and enthusiasts of all ages and skill levels, backgrounds and interests. We come together to paint and learn, to work in a supportive atmosphere, and to encourage each other by scheduling paint outs, workshops, competitions, critiques and group exhibitions. Each member may be as active as he or she chooses to be.
OPAS is proud to be at the forefront of the resurgent plein air movement in the United States. Our members now come from nearly every county in Ohio, and from each of the surrounding states.
Members.
SEE OUR MEMBERS.
GALLERIES.
CARRIE LACEY BOERIO
MARTHA O. CARMODY, OPA
MARY HOLOBAUGH
ALICE JONES HAUSER, OPA
CAROLYN LEWIS
ROBIN ROBERTS
TAMAR RUDAVSKY
CRAIG A. STAUFER
JOHN K. VICTOR

ROSTER.
For a full list of our entire member roster, please click here.
LENDING LIBRARY
As an OPAS member, you will have access to our lending library!
Click here to see the titles available as a member of OPAS.
Ohio Plein Air Society Officers
Robin Roberts – President
Ann Grimaldi – Vice President
Bridgette Turner – Treasurer
Doreen St. John – Board Secretary
Tamar Rudavsky – Membership Secretary/Librarian
Carol Cosgrove – Paint Out Czar
Trustees
Chuck Marshall, Robin Roberts, Tamar Rudavsky, Doreen St. John, Bridgette Turner, Jeff Stahler and Mary Jane Ward
Founding Members:
Richard Canfield, Kay Michelle Darling, Debra Joyce Dawson, Mark Gingerich, Tom Harbrecht and Richard Otten
Sponsors.
SUPPORT PLEIN AIR PAINTING.
We really appreciate all of our generous sponsors. We'd like to send a HUGE thank you to each and every one of them!