EVENTS.
UPCOMING OPAS EVENTS.
Interested in hosting a Paint Out? Need some guidance on how or when? Contact our temporary Paint Out Coordinator, Doreen St. John.
Oct. 19, 2019 – Litzenberg Memorial Woods, Findlay, Ohio
Address: 1900 Park Street, Springfield, Ohio
OPAS Host: Sharon Hammer Baker
Timing: 9am – 4pm, see details below for breakdown

Celebrate early autumn in northwest Ohio!
Celebrate early autumn in northwest Ohio!
Join us for the sixth annual Hancock Park District Plein Air Paint-Out at the historic Litzenberg Memorial Woods, 6 miles west of Findlay on SR 224
Artists in all plein air media are welcome
9-10 am          Registration/Check-in at the barn
9-12                 Paint in your choice of 1840s farmstead, garden, meadow, prairie, Woods, or river bottom
12-1 pm          Lunch*
1-3                   Paint
3-4                   Gathering in the barn to share the day's works with other artists and park visitors
More Info…
*Bring your own lunch and join other artists in the barn or visit restaurants in Findlay
In case of rain, there are several sites under cover where you can work
Restrooms, snacks and beverages available all day at the barn
The paint-out this year is in conjunction with the annual Autumn Fest featuring costumed interpreters and historic craft demonstrations
This is a non-competitive event and there is no registration fee
RSVP: To pre-register or for more information contact Sharon Hammer Baker: bakerartstudio@gmail.com
The Ohio Plein Air Society Juried Show in Mansfield, OH
Painting in the Elements: Select Plein Air Paintings by Members of the Ohio Plein Air Society
At the Mansfield Art Center
A Juried, Plein Air Gallery Exhibition
Sunday, June 28, 2020 to Sunday, July 26, 2020
ENTRIES:
Entry Deadline: May 4, 2020
Images – Maximum: 3 images
Entry Fee: $30.00
Click Here To Enter


CALL FOR OPAS ARTISTS:
This juried event will celebrate the plein air tradition by exhibiting, promoting, and selling an exclusive group of works painted outdoors in the true spirit of plein air painting. Our juror will select the finest 
plein air works from members of the Ohio Plein Air Society. We will celebrate at an opening on 
Sunday, June 28, 3:00 – 5:00 PM. Awards at 4:00 pm.
There is no theme for this show. Please submit your very best plein air work.
Don't miss this unique opportunity to add a prestigious fine art gallery exhibition to your artist resume.
ENTRY DEADLINE:
All entries must be submitted via Online Juried Shows (www.onlinejuriedshows.com) 
 by May 4, 2020. An entry start date has not been determined.
Artists MUST be members of the Ohio Plein Air Society to submit their works. 
 Go to www.ohiopleinairsociety.com for membership information.

ENTRIES AND FEES:
A non-refundable application fee of $30 will be collected from each artist submitting their works.
This fee is payable online only by credit card via Online Juried Shows (www.onlinejuriedshows.com)
• Each artist may submit a maximum of 3 painting images
This is strictly a juried show
CONDITIONS OF ELIGIBILITY:
All submissions MUST BE ORIGINAL PLEIN AIR PAINTINGS 
 (at least 90% done on location, outside, from direct observation)
Paintings should be completed during the calendar years of 2018 to May 4, 2020
Our juror will be choosing works they feel best represent the spirit of PLEIN AIR
Please submit your best PLEIN AIR work only, no studio work
All artwork MUST BE framed and wired securely for hanging in a fine art gallery setting
Works on paper and mediums susceptible to smearing/smudging MUST BE protected under 
 glass or plexi-glass.
Size limit: artwork cannot exceed 48" on the longest side
The Mansfield Art Center reserves the right to reject any artwork deemed improperly 
 framed or improperly prepared for hanging.
Any work accepted to the juried show MUST BE present for the duration of the scheduled exhibition
JURYING PROCESS:
Juror: Larry Churski
All paintings submitted for judging will be reviewed by our juror between the dates of 
 May 4, 2020 and May 18, 2020
Each artist member may submit up to 3 paintings to be judged.
Each painting is judged on an individual basis and, therefore, considered on an individual basis 
 for exhibition as well, not as a group
Selections will be announced to ALL ARTISTS, regarding paintings selected or not, 
 via Online Juried Shows by June 1, 2020
DELIVERY OF ACCEPTED PAINTINGS:
Drop-Off dates are Friday, June 12, 2020, from 1-5 pm and
 Saturday, June 13, 2020, from 1-5 pm
Please include name, title, sale price and insured price on a label on the back of the painting
No shipping of paintings to the museum is allowed
Please work together with others in your area for delivery and pick-up
ART SALES:
A predetermined sales price MUST BE provided by the artist for each painting submitted to the show
If the painting is not for sale, we still need an Insurance value for the painting
An exhibition guide will list prices, and all sales will be handled by the Art Center
A 40% commission will be deducted from the sale price of any work sold during the show
Prior to receiving the money from a sale, the artist must complete a 2020 W9 form for tax purposes
The artist will receive 60% of all sales and will be paid at the show's completion via check and mailed to
the address provided in the artist's application
EXHIBITION CLOSE AND RETURN OF UNSOLD WORK:
The exhibition officially ends Sunday, July 26, 2020
• Pick-up date is Tuesday, July 28, 2020, from 3-7 pm
Any work not picked up will wind up at Robin's house
IMPORTANT DATES SUMMARY:
5/4/20 – All entries are due via Online Juried Shows.com

5/18/20 – Juror deadline to review submissions

6/1/20 – Selections announced via Online Juried Shows.com
6/12-13/20 – Selected paintings MUST BE dropped off at The Mansfield Art Center
6/28/20 – Opening of the show
6/28/20 – Opening reception from 3:00-5:00 pm at The Mansfield Art Center
7/26/20 – Show concludes.

7/28/20 – Pick up unsold Art at The Mansfield Art Center
IMPORTANT INFORMATION:
Address for The Mansfield Art Center, 700 Marion Ave. Mansfield, Ohio 44906
Hours and phone for the Art Center: Tuesday – Sunday 11am – 5pm | 419.756.1700
The OPAS chair for this show is Robin Roberts
The Ohio Plein Air Society Juried Show in Canton, OH
Show name to come
At the Canton Museum of Art
A Juried, Plein Air Exhibition
Aug. 2021 to Oct. 2021
The 16th Annual Ohio Plein Air Competition is in Cincinnati, Ohio, Sept. 26-29, 2019
OPEN TO ALL ARTISTS
PAINTING AREA
Hamilton County is 413 square miles of painting opportunities. Boasting a great series of parks
and nature preserves (www.greatparks.org), the major urban center of Cincinnati, three major rivers, farms and great hilltop vistas, everything you would ever want to paint is here! Explore pure nature scenes, contemporary or historic architecture, bustling urban markets and public spaces, and more. In the village of Mariemont, less than 10 miles east of downtown Cincinnati, the Woman's Art Club Cultural Center (The Barn) will be our headquarters for the weekend. In order the include the very paintable town of Milford, the painting area will be extended on the east side to include the strip inside the 275 loop.
COMPETITION FEES (non-refundable)
OPAS Members – $50
Non – OPAS Members – $80
QuickDraw Competition (optional) – $10 cash on the day of the event
AWARDS
Best of Show $1,000, First $750, Second $500, Third $350, Artists' Choice Award $300, and up to five Honorable Mentions at $150 each.
QuickDraw winner receives amount collected ($10 cash to particpate)
Several "Awards of Excellence" will be announced at the Awards Presentation on Sunday.
CHECK-IN & STAMPING
Check-in and get surfaces stamped on Thursday evening, September 26 from 3:30pm – 8:00pm at The Barn allowing two days plus an evening of painting.
Check-in and stamping will also be done on Friday and Saturday mornings from 8:00 – 10:00 am at The Barn.
Artists must be pre-registered, checked-in, and have their painting surfaces stamped before painting. Unstamped surfaces will NOT be eligible for judging or for the Wet Paint Show & Sale. OPAS will stamp only plain, unpainted canvas, panels, or water media/pastel paper or paper/board supports. Surfaces may be toned with a uniform ground.
PLEIN AIR DEFINED BY OPAS
Paintings should be 95% completed outside, on location, and from direct observation.
No photography allowed. The painting must resemble the location. Multiple sessions are acceptable.
WET PAINT SHOW & SALE
All sales go through The Barn. Sales during the competition and Wet Paint Show & Sale are subject to a 30% commission.
There will be a designated area for participating artists to show and sell other paintings done during the competition weekend on Sunday, Sept. 29 at The Barn.
Only work completed during the Ohio Plein Air Competition will be eligible for the Wet Paint Show & Sale.
Download the Prospectus as a PDF:
Mail check with completed Entry Form to arrive by Monday, September 23 to: Competition Entry, Ohio Plein Air Society, P. O. Box 14926, Columbus, OH 43214
Daily Itenerary – Sept. 26-29, 2019 (subject to change)
THURSDAY, SEPT. 26 – EARLY STAMPING
3:30pm – 8:00pm – Artists will be able to check-in and get surfaces stamped early.
GO OUT AND PAINT ON THURSDAY NIGHT or get out early on Friday.
FRIDAY, SEPT. 27 – COMPETITION PAINTING
8:00am – 10:00am – Check-in/Stamping at The Barn
SATURDAY, SEPT. 28 – COMPETITION PAINTING
8:00am – 10:00am – Check-in/Stamping at The Barn
7:00 – 9:00pm – Pot Luck Dinner and Social with door prizes at The Barn
SUNDAY, SEPT. 29 – COMPETITION (Times are subject to change)
9:00am – 10:00am – Competition Painting Delivery to The Barn IMPORTANT: If your painting is not delivered by 10:00am it will not be entered in the judging
10:00am – 10:30am – QuickDraw Registration
10:30am – 12:30pm – QuickDraw Competition IMPORTANT: You must return with your painting BEFORE 12:45pm to be eligible
10:00am – 11:30am – Judging for Ohio Plein Air
12:00pm – 2:00pm – Competition exhibit area open for public viewing
12:45pm – 1:00pm – Judging for QuickDraw
1:00pm – Awards Presentation
10:00am – 2:00pm – Wet Paint Show & Sale
Only works created over the weekend (with stamp) are eligible for the Wet Paint Show & Sale
OUR JUDGE – Timothy Horn

Timothy Horn was born and raised in the small town of Yellow Springs, Ohio, and graduated from the Cooper Union School of Art in New York City in 1984, with a focus in graphic design. After finishing school, he worked at several design firms in New York before moving to San Francisco in 1992, where he continued to work as a designer. Horn took his first painting class in 1998, followed by another in the fall of 1999, and within a year he knew he had found his calling. He began painting more and more, and doing less and less graphic design until the fall of 2006 when he closed his design business entirely.
He now paints full-time and lives in the the small town of Fairfax where he is drawn to the everyday scenes of the rural areas in Marin and Sonoma Counties — the old buildings that have evaded development, the workings of ranch life, the old cars and trucks that continue on, or sometimes simply the play of light and shadow across planes of weathered color. Horn wants to create paintings that tell his story, that express his observations, "paintings that feel 100% Me".
His work has won numerous awards, has been featured in several magazines, and was on the cover of Southwest Art in 2012. He participates in several annual group shows, and is currently represented by four galleries. Every year, Horn teaches 4 – 6 painting workshops around the country and abroad. He is an Artist Member of the California Art Club, and a Signature Member of the Oil Painters of America.
Tim will be running a workshop hosted by OPAS Sept. 30 – Oct. 2, 2019, titled, "Capture the Light!"   For more visit www.OhioPleinAirSociety.com for more info or to register online.
[/fusion_toggle][/fusion_accordion]
A 3-day WORKSHOP with Artist, Timothy Horn
"Capture the Light!"

WHEN? Monday, Sept. 30 through Wednesday, Oct. 2, 2019
WHERE? Home base will be at The Barn, Woman's Art Club Cultural Center, 6980 Cambridge Avenue, Mariemont, OH 45227
HOW MUCH? $495 for OPAS Members, $540 for Non-OPAS Members
The primary focus of this 3-day workshop will be on how to convey the sense of strong sunlight in your paintings
by identifying, clarifying and establishing proper value relationships. Exercises will be used to help simplify these concepts. We will learn to utilize value patterns to aid in developing successful compositions. There will be discussions on materials, scene selection and brushwork. During the workshop, I will do a demonstration painting each day, and work with students individually on their paintings throughout the rest of the day. I will also present a slide show, using examples of my work to illustrate key concepts.
The workshop is geared toward advanced beginner, and intermediate painters working in oil.
We'll be spending about half our time in the studio, and (weather permitting) the other half, painting outdoors nearby.
www.timhornart.com
There are two ways to register and pay below. You can register & pay online! We make it easy to register and pay in full online with any major credit card or with PayPal. You can also register or pay a deposit by printing and filling out the registration form by clicking on the "Download Form" button and mail your check or money order, payable to OPAS  to: OPAS Treasurer, P.O. Box 14926, Columbus, OH 43214
Teachers
The following OPAS members teach classes, workshops and / or demos. Please contact these OPAS members directly to be added to their mailing lists.
Attention Northeast Ohio Plein Air Painters
YOU ARE INVITED TO THE FIRST ANNUAL REGIONAL PAINT-OUT
Saturday, October 12th
Silver Creek Metro Park
AND WE WANT YOU THERE!
5000 S Hametown Rd, Norton, OH 44203-5965
All artists are welcome from anywhere in Northeast Ohio
A signup sheet will be available outside the Bathhouse in front of the beach starting at 7a.m. [see blue arrow]
We will begin at 7a.m. All artists should have their paintings ready for review back at the registration area by 1p.m.  There will be a public vote for People's Choice!
Multiple paintings / sketches are permitted.  No commissions will be assessed for sales made.
We want to make this an annual event that caps off our Ohio season every year.
For more information, please contact the event organizer Mark D. Mahoney, leave a detailed voice mail at 330-323-0225 or email at themarkdmahoney@gmail.com. 
SAVE THE DATE – 2020 PLEIN AIR SOUTH HAS MOVED TO MARCH 30 – APRIL 3, 2020
We want to reach out to you and let you know the faculty line-up this year and Register Kick-off date is September 15, 2019.  Since the dates have changed, we would love for you to share with your organization the attached.
PAS has many opportunities available to attend.  We have twenty-five Volunteer positions available with a cost of $200.00.  For those interested, please follow the Volunteer Tab and follow instructions on the PAS website upon registration.  The cost to attend is $495.00 until December 31, 2019.  After December 31, 2019 the cost will be $595.00.2020 holds another new addition…..another day.  Plein Air South will be five days with many more chances to network and interact with 2020 accomplished plein air faculty.Each year PAS finds ways to bring artists together to interact, share and grow.  The Marketplace will also be available to artists.PAS is an event that offers breakfasts, lunches, two dinners, demo, plein air sessions and much more included in the one time registration price.Plein Air South is a very special treat for every artist even the studio artists can learn from the knowledge that is shared.
______________________________________________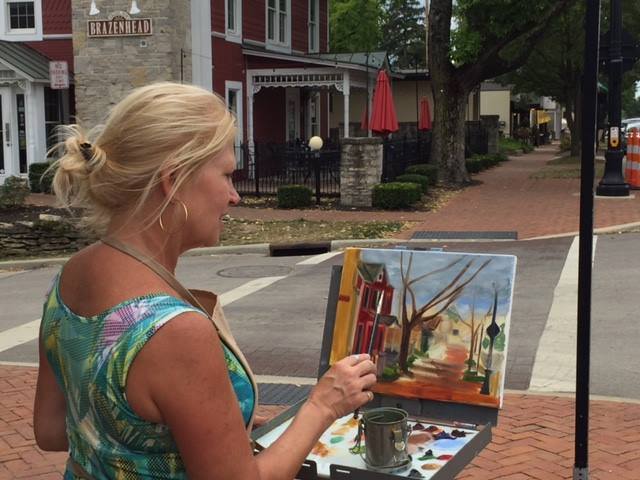 Join.
BECOME A MEMBER TODAY.
The Ohio Plein Air Society is a collection of artists and art lovers sharing a common interest in outdoor painting. While we recognize that all art is important, as a group we focus on painting, drawing, and other art forms completed on site, from direct observation, and outdoors. Our admiration for the world around us gives us reason to explore through art the diversity and uniqueness of Ohio's landscapes, cityscapes, lakes, rivers, and streams, and beyond.  As a non-profit organization, OPAS welcomes and supports artists, patrons, educators, and enthusiasts of all ages and skill levels, backgrounds and interests. We come together to paint and learn, to work in a supportive atmosphere, and to encourage each other by scheduling paint outs, workshops, competitions, critiques and group exhibitions. Each member may be as active as he or she chooses to be.
OPAS is proud to be at the forefront of the resurgent plein air movement in the United States. Our members now come from nearly every county in Ohio, and from each of the surrounding states.
For the purpose of shows and competitions, OPAS defines plein air as: Paintings should be 95% completed outside, on location, and from direct observation. No photography allowed. The painting must resemble the location. Multiple sessions are acceptable.
Members.
SEE OUR MEMBERS.
GALLERIES.
CARRIE LACEY BOERIO
ROBIN BORER
MARTHA O. CARMODY, AIS
MARY ANN CLADY
CYNTHIA DAVIS
JEFF A. EVANS
MARY HOLOBAUGH
ALICE JONES HAUSER, OPA
REBECCA HAWKINS
CAROLYN LEWIS
ROBIN ROBERTS
TAMAR RUDAVSKY
CRAIG A. STAUFER
JOHN K. VICTOR

ROSTER.
For a full list of our entire member roster, please click here.
LENDING LIBRARY
As an OPAS member, you will have access to our lending library!
Click here to see the titles available as a member of OPAS.
Ohio Plein Air Society Officers
Robin Roberts – President
Ann Grimaldi – Vice President
Bridgette Turner – Treasurer
Doreen St. John – Board Secretary
Mary Ann Clady – Membership Secretary
Tamar Rudavsky – Librarian
Carol Cosgrove – Paint Out Czar
Trustees
Chris Leeper, Mary Ann Clady, Robin Roberts, Tamar Rudavsky, Doreen St. John, Bridgette Turner, Jeff Stahler and Mary Jane Ward
Founding Members:
Richard Canfield, Kay Michelle Darling, Debra Joyce Dawson, Mark Gingerich, Tom Harbrecht and Richard Otten
Groups.
PLEIN AIR GROUPS.
These groups paint en plein air around Ohio on a regular basis. If you are looking for a group to paint with, try one of these:
LOCATIONS.
Grand River Valley Painters – (New for 2019) Serving artists in Lake, Ashtabula and northern Geauga counties.
To be added to the local email distribution, contact Robin Borer at aprfoolgal@gmail.com
Inaugural Paint Out Sat. May 18, 9am-1pm (Rain date: Sun May 19, 9am-1pm) at Chair Factory Falls. See website for details.

Additional paint out dates will be sent to members on the local distribution list, now forming.
Central Ohio Plein Air Painters (COPA)
– COPA Schedule
Eastern Ohio Plein Air, endorsed by the Youngstown Davis YMCA
SouthWest Ohio Plein Air  (SWOPA) Painters
Plein Air Artists of the Western Reserve
This is a loose knit group of plein air artists that meet every Monday morning for breakfast, and then go and paint in the Marblehead area.
More coming as we hear about them
If you are a leader of one of these groups in Ohio, or know who is, please
contact me.
Sponsors.
SUPPORT PLEIN AIR PAINTING.
We really appreciate all of our generous sponsors. We'd like to send a HUGE thank you to each and every one of them!