EVENTS.
UPCOMING OPAS EVENTS.
Interested in hosting a Paint Out? Need some guidance on how or when? Let us Know.
Paint Downtown Ravenna
Friday, August 14, 2:00 – 7:00 PM
Downtown Ravenna, Portage County Ohio
RSVP:  Julie • 330-812-4670 • julie@mainstreetravenna.org
15 artists max at a social distance.
Bring your mask and wear it!
The town of Ravenna asks Ohio Plein Air Society artists to come and paint in their historic downtown.
Main Street Ravenna is pleased to welcome the Ohio Plein Air Society to downtown Ravenna on Friday, August 14th from 3-7pm.  Plein air artists from the great state of Ohio will be wearing their masks and practice social distancing while painting Ravenna's beautiful, historic downtown. Residents are invited to come and see the creative process in motion and ask questions. Artists may have works available for sale at their easels the day of the event.
CHECK IN: 267 West Main Street Ravenna Ohio 44266
Plenty of on-street parking around town on Main Street
Bathrooms located on each end of Main Street (The Main Street Ravenna Check in location and Tavern 1888)
RSVP is required: Julie • 330-812-4670 • julie@mainstreetravenna.org
The planners would like OPAS artists to be positioned at assigned locations on either side of Main Street in downtown Ravenna between Sycamore Street (to the west) and Elm Street (to the east).
---
BYERS WOOD PLEIN AIR INVITATION
AUGUST 22nd, 2020    9:00 am – dusk
675 County Road 1754, Ashland, OH 44805
There is an exciting opportunity to plein air paint in Ashland County at one of our beautiful parks, Byers Woods on Saturday, August 22nd, 9am to dusk. Location 675 County Road 1754, Ashland, OH 44805
The founder of the park district, Bob Desanto, has personally invited us because he loves art and the beauty of nature. A combination that resonates with many of us as well!  I am reaching out to each of you to participate in painting outdoors in nature. Bring you easel, a picnic lunch and walking shoes and look forward to a day of serenity, fresh air, painting and comradery!
Byers Woods is an 215-acre park, in a repurposed  landfill, where visitors will find over three miles of well-maintained trails looping through a wide variety of habitats – including forest, grasslands, wetlands, fishing ponds and more. This site hosts a tremendous diversity of birds and wildlife.
There is also an historic barn complete with sheep. For more information this link will give you more specifics of what the part offers. https://ashlandcountyparks.com/index.php/parks/byers-woods
If you would like to display your painting for sale after the event, Bob will allow us to hang a show in the Ashland Courthouse.
If you are interested in participating, just drop me an email so I will have an  idea of the number of artists to expect.
artist.terrimeyer@gmail.com
The area is vast with trails and beautiful  natural scenery. Bob might even  provide a few golf carts to accommodate getting to painting spots a little quicker.
See you on Saturday, August 22nd!
Dawson Annual Lynd's Fruit Farm Paintout
For complete details, RSVP to: Debra Joyce Dawson – president@ohiopleinairsociety
December 5, 2020, 8:00 am – Noon
Location: 9851 Morse Rd. SW, Pataskala, OH 43062
Website:
lyndfruitfarm.com
Debra will meet you at the parking lot on the corner of Rt. 310 and St. Rt. 161.
---
PLEASANT HILL PARK  PAINT OUT
JUNE 13th, 2020    9:00 am – 2:00 pm
THIS EVENT HAS BEEN CANCELLED
HOST: MARY ANN CLADY – 419-512-0594 – maryannclady@gmail.com
ADDRESS:  3431 STATE ROUTE 95, PERRYSVILLE, OHIO 44864
Pleasant Hill Lake is situated in the rolling hills of the Mohican Forest near Loudonville/Perrysville. It is an active lake with people fishing, boating, kayaking and just enjoying the beach. Bathrooms and a camp store are on the premises. There is also a covered porch in case of a little rain.
______________________________________________
The Ohio Plein Air Society Juried Show in Mansfield, OH
Painting in the Elements: Select Plein Air Paintings by Members of the Ohio Plein Air Society
At the Mansfield Art Center
A Juried, Plein Air Gallery Exhibition
Sunday, June 28, 2020 to Sunday, July 26, 2020
ART SALES:
A predetermined sales price MUST BE provided by the artist for each painting submitted to the show
If the painting is not for sale, we still need an Insurance value for the painting
An exhibition guide will list prices, and all sales will be handled by the Art Center
A 40% commission will be deducted from the sale price of any work sold during the show
Prior to receiving the money from a sale, the artist must complete a 2020 W9 form for tax purposes
The artist will receive 60% of all sales and will be paid at the show's completion via check and mailed to
the address provided in the artist's application
EXHIBITION CLOSE AND RETURN OF UNSOLD WORK:
The exhibition officially ends Sunday, July 26, 2020
Pick-up date is Tuesday, July 28, 2020, from 3-7 pm
Any work not picked up will wind up at Robin's house
IMPORTANT DATES SUMMARY:
6/28/20 – Opening of the show
7/26/20 – Show concludes.
7/28/20 – Pick up unsold Art at The Mansfield Art Center
IMPORTANT INFORMATION:
Address for The Mansfield Art Center, 700 Marion Ave. Mansfield, Ohio 44906
Hours and phone for the Art Center: Tuesday – Sunday 11am – 5pm | 419.756.1700
The OPAS chair for this show is Robin Roberts
The Ohio Plein Air Society Member Show in Lancaster, OH
Show name to come
At the Ohio University, Lancaster gallery
A Juried Members, Plein Air Exhibition
Jan. – April. 2021
This is our members show, which means if you submit, you are guaranteed to have a painting in the show.
The OPAS chair for this show is Jeff Stahler with support from Mary Jane Ward
Lot of info to come regarding this show. Check back soon.
The Ohio Plein Air Society Juried Show in Canton, OH
Show name to come
At the Canton Museum of Art
A Juried, Plein Air Exhibition
Aug. 2021 to Oct. 2021
The OPAS chair for this show is Chris Leeper with support from Doreen St.John
Lot of info to come regarding this show. Check back soon.
The 17th Annual Ohio Plein Air Society Competition will be held in Columbus, Ohio, Sept. 24-27, 2020.
Painting Area
Franklin County, Ohio's capital city, Columbus, is full of beautiful neighborhoods and is home to 19 Metro Parks with miles and miles of trails.
Plein Air highlights include The Ohio State University, The Short North, German Village, Olde Town East, Franklin Park Conservatory, Scioto Mile, The State Capital, Ohio Theatre and much more.
The Loann Crane Building on the campus of The Columbus College of Art & Design will serve as the hub of activity. It is here that artists will get their painting surface stamped, meet for the Saturday evening social event and the Sunday morning juried exhibit. This will also be the location of the public viewing of the weekend's art and the traditional 2 hour Paint Out.
Mail check with completed Entry Form (once available) to arrive by Monday, September 21 to: Competition Entry, Ohio Plein Air Society, P. O. Box 14926, Columbus, OH 43214
Event Agenda September 24-27
Thursday, September 24 – Early Stamping
4pm-6pm: Artists will be able to check-in & get surfaces stamped.
Loanne Crane Center for Design 112 Cleveland Ave. 43215 (front lobby)
Friday, September 25 – Competition Painting
8am-10am:  check-in (if you haven't already) & get surfaces stamped.
Loanne Crane Center for Design 112 Cleveland Ave. 43215 (front lobby)
Saturday, September 26 – Competition Painting
8am-10am: check in & stamping available.
Loanne Crane Center for Design 112 Cleveland Ave. 43215 (front lobby)
7pm-9pm: Social & Dinner provided. Door prizes
Loanne Crane Center for Design 112 Cleveland Ave. 43215 (front lobby)
Sunday, September 27
9am-10am: competition painting to be delivered on easel stands (provided by the artist)
Important: Your painting must be in position, on its stand or easel, by 10am to be considered for judging. The stamp must be visible on the back of your surface!
10am: Registration for the Quick Draw competition
10:30am-12:30pm: Quick Draw competition
Important: Your quick draw painting must be on an easel (provided by the artist) BEFORE 12:40pm to be eligible. Your stamp must be visible on the back of the surface to be considered.
PUBLIC is invited to observe & purchase paintings 12pm-2pm.
Only works created during the weekend may be on display and for sale.
Awards will be announced @ 1pm.
Competition Judge: To come
A 3-day WATERCOLOR WORKSHOP with Artist, Dan Marshall
This workshop has been canceled due to the Coronavirus.
We are working on rescheduling for later in the year.

WHEN? We are working on a new date now.
WHERE? Schiller Park Community Center (in German Village) 1069 Jaeger St, Columbus, OH 43206
HOW MUCH? $350 for OPAS Members, $395 for Non-OPAS Members
Daniel Marshall is a prominent watercolor artist currently based in Denver. Daniel has been an award winning professional artist and leading name in the tattoo industry since 1995, redirecting the majority
of his creative energy to fine art painting in watercolor since 2013. His dedication to the medium has been honored with winning many awards including both the Directors Choice and Collectors Choice awards at the 2018 LPAPA Invitational. He's been featured in Watercolor Artist Magazine, Southwest Art Magazine, American Art Collector and Plein Air Magazine. He is also a regular contributor, writing articles about plein air painting, experiences and watercolor instruction.
Daniel is an avid plein air painter, being inspired by and painting the majority of his works on location. This has helped him to develop a confident style with an immediacy and freshness infused into each painting.
Dan will demo 2-3 times a day. We'll learn to incorporate a deliberate process for creating realistic but expressive watercolors, both plein air with our beautiful views around Columbus and in our studio. Dan's website: https://danmarshallart.com
"I strive to bring a sense of space and atmosphere, with a cinematic elegance and quiet sophistication to my work. Creating a poetic narrative, each piece telling a unique story, directly influenced by painting on location."
There are two ways to register and pay below. You can register & pay online! We make it easy to register and pay in full online with any major credit card or with PayPal. You can also register or pay a deposit by printing and filling out the registration form by clicking on the "Download Form" button and mail your check or money order, payable to OPAS  to: OPAS Treasurer, P.O. Box 14926, Columbus, OH 43214
---
A 2-Day Plein Air WORKSHOP with Artist, George VanHook.
Canceled due to Covid-19 Issues. This may be rescheduled at a later date or perhaps till our next competition.

WHEN? Wed., Sept. 23 through Thurs., Sept. 24, 2020.
WHERE? Home base will be at Loanne Crane Center for Design, at Columbus College of Art & Design (CCAD), 112 Cleveland Ave., Columbus, OH 43215
HOW MUCH? $200 FOR OPAS MEMBERS, $245 FOR NON-OPAS MEMBERS
George began painting very early and was able to participate in the vibrant arctic culture of the Abington, Pennsylvania region. The family owned a farm in Bucks County, home of the Pennsylvania impressionists, and George became heavily influenced by their fine academic training coupled with a love of the prosaic landscape. Another early local influence was the 'Brandywine tradition', the illustrative work of Howard Pyle and the Wyeths.
George Van Hook thinks of his paintings as primarily a visual response to the selected environment, be it landscape, figure or still life. "I want the color to be beautiful and the drawing firm and secure." he says. "The paintings are a marriage of external and internal forces – what emerges on the canvas should be a reflection of both the beauty of the world and the artist's most inner response."
There are two ways to register and pay below. You can register & pay online! We make it easy to register and pay in full online with any major credit card or with PayPal. You can also register or pay a deposit by printing and filling out the registration form by clicking on the "Download Form" button and mail your check or money order, payable to OPAS  to: OPAS Treasurer, P.O. Box 14926, Columbus, OH 43214
---
Teachers
The following OPAS members teach classes, workshops and / or demos. Please contact these OPAS members directly to be added to their mailing lists.
17th Annual Historic Dublin Paint Out
Saturday June 6, 2020, 9AM -3PM
Registration + Canvas stamp from 9 am – noon at the DAAL tent at the intersaction of Bridge and High Street in Dublin, OH.
Rain or Shine.
$15 entry fee.
Open to all artists age 16+ using any medium.
Entries must be wired in back for hanging.
For the Early Risers
We start the registration and stamping at 9 am. You are welcome to arrive earlier and look for a place to paint, start making value studies, but keep your support blank for until stamping (uniform toning is acceptable).
Prizes and Awards
Mark Gingerich, renown oil painter and en plein air artist, will serve as judge for the 2020 competition.
The piece deemed to be Best of Show winner will receive $200 in cash.  First, Second, and Third place winners will receive $100, $75, and $50 respectively. More awards will be added as sponsors step in to support the event.
More info
For more information about the En Plein Air Painting contest contact  dublinartleague@gmail.com
The yearly event is hosted by the Dublin Area Art League, a non-profit organization dedicated to promoting and supporting the Arts and empowering the artists. Membership is open to all who are interested in art.
The Paint Out event is funded in part by the Dublin Arts Council.
More details and pre-registration available on the DAAL website
Join us on June 6th and enjoy:
Faster line for pre-registered artists (New!)
Free snacks and water for registered participants
The new beautiful pedestrian bridge will be open
and more 🙂
______________________________________________
2020 PLEIN AIR SOUTH WILL NOW BE IN THE FALL, September 27 – October 1, 2020
We want to reach out to you and let you know the faculty line-up this year and Register Kick-off date is September 15, 2019.  Since the dates have changed, we would love for you to share with your organization the attached.
PAS has many opportunities available to attend.  We have twenty-five Volunteer positions available with a cost of $200.00.  For those interested, please follow the Volunteer Tab and follow instructions on the PAS website upon registration.  The cost to attend is $495.00 until December 31, 2019.  After December 31, 2019 the cost will be $595.00.2020 holds another new addition…..another day.  Plein Air South will be five days with many more chances to network and interact with 2020 accomplished plein air faculty.Each year PAS finds ways to bring artists together to interact, share and grow.  The Marketplace will also be available to artists.PAS is an event that offers breakfasts, lunches, two dinners, demo, plein air sessions and much more included in the one time registration price.Plein Air South is a very special treat for every artist even the studio artists can learn from the knowledge that is shared.
______________________________________________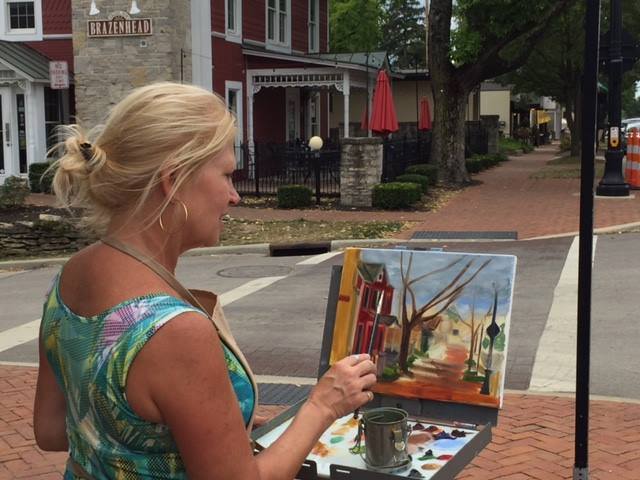 Join.
BECOME A MEMBER TODAY.
The Ohio Plein Air Society is a collection of artists and art lovers sharing a common interest in outdoor painting. While we recognize that all art is important, as a group we focus on painting, drawing, and other art forms completed on site, from direct observation, and outdoors. Our admiration for the world around us gives us reason to explore through art the diversity and uniqueness of Ohio's landscapes, cityscapes, lakes, rivers, and streams, and beyond.  As a non-profit organization, OPAS welcomes and supports artists, patrons, educators, and enthusiasts of all ages and skill levels, backgrounds and interests. We come together to paint and learn, to work in a supportive atmosphere, and to encourage each other by scheduling paint outs, workshops, competitions, critiques and group exhibitions. Each member may be as active as he or she chooses to be.
Membership to the Ohio Plein Air Society runs on a calendar year and currently is $50 per year. We also offer a student membership for $15 and anyone can also purchase a lifetime membership for $500.  Any member can also choose to have a member gallery space where you can display up to 10 images of your work and includes a bio and links out to your own website and/or Social media sites for an additional $25 per year. Simply pay online or download the form provided, print it, fill it out and mail it in with a check using the buttons below.
OPAS is proud to be at the forefront of the resurgent plein air movement in the United States. Our members now come from nearly every county in Ohio, and from each of the surrounding states.
For the purpose of shows and competitions, OPAS defines plein air as: Paintings should be 95% completed outside, on location, and from direct observation. No photography allowed. The painting must resemble the location. Multiple sessions are acceptable.
Members.
SEE OUR MEMBERS.
GALLERIES.
CARRIE LACEY BOERIO
ROBIN BORER
MARTHA O. CARMODY, AIS
MARY ANN CLADY
CYNTHIA DAVIS
RACHEL DOWD
J.T. DURKALSKI
JEFF A. EVANS
MARY HOLOBAUGH
ALICE JONES HAUSER, OPA
REBECCA HAWKINS
DOUGLAS SCOTT KELLEY
CAROLYN E. LEWIS, OPA
TONYA RAMSEY
ROBIN ROBERTS
TAMAR RUDAVSKY
CRAIG A. STAUFER
CANDICE VANSCHOYCK
JOHN K. VICTOR
SHERI WALDROP
ROSTER.
For a full list of our entire member roster, please click here.
LENDING LIBRARY
As an OPAS member, you will have access to our lending library!
Click here to see the titles available as a member of OPAS.
Ohio Plein Air Society Officers
Debra Joyce Dawson – Presdient
Justine Collamore – Vice President
Bridgette Turner – Treasurer
Chris Leeper –  Board Secretary
Mary Ann Clady – Membership Secretary
Robin Roberts – Librarian
Mary Ann Clady – Paintout Czar
Trustees
Mary Ann Clady, Justin Collamore, Debra Joyce Dawson, Chris Leeper, Jeff Stahler, Mary Jane Ward
Founding Members:
Richard Canfield, Kay Michelle Darling, Debra Joyce Dawson, Mark Gingerich, Tom Harbrecht and Richard Otten